How to Do an Illinois Business Search: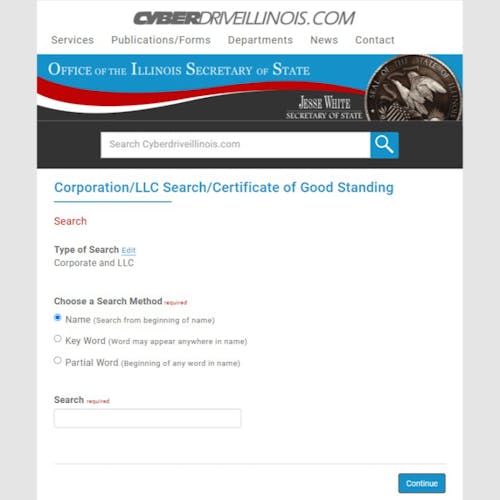 Starting off with a couple of good name options, conduct a preliminary name availability search online. You can also submit an online form to request a corporate name availability check or reach out by telephone. We recommend performing state and federal trademark searches before reserving the name or filing entity formation documents.
1.
Conduct an Illinois business search online.
1.1
Visit the Illinois Secretary of State website.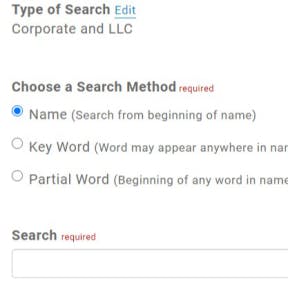 Navigate to the Corporation/LLC Search page on the Illinois Secretary of State's (SOS) website. Here you will find information regarding name availability in Illinois. Click the "Search" button under the first paragraph to access the online business search tool.
1.2
Select a search type.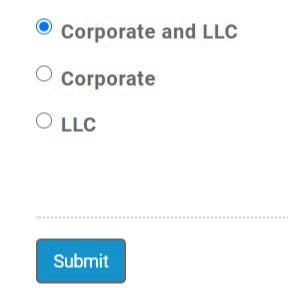 You have the option to include both LLCs and corporate entities in your search or limit it to either LLCs or corporate entities. Select "Corporate and LLC" and click "Submit."
1.3
Choose a search method.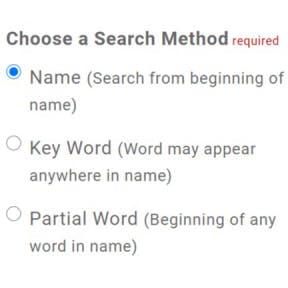 You have a choice of three search methods: by name, keyword, or partial word. The first method limits the results to names that start with your search term(s). The second method allows you to find business names that contain a specific keyword, and the third seeks out business names that contain a partial match to your search term.
To be thorough, we recommend using each method to search for your business name, the primary keyword in the name, as well as variations of the name. This may take a moment but can save you the time of completing and submitting official documents to reserve a name or form a business, only to find out that your preferred name is not available in Illinois.
1.4
Enter your business name.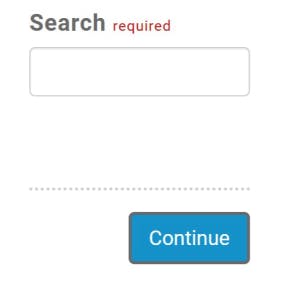 Type your business name into the search field and click "Continue."
1.5
Review the search results.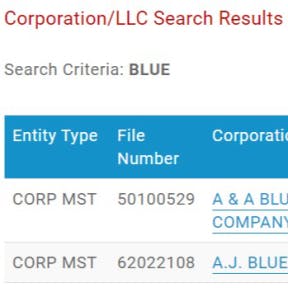 If there are no matches to your search criteria, your name appears to be available. Be sure to repeat the search with variations of your name, such as alternate spellings, to investigate the possibility of any similar names. Also, adjust the search method.
If your search yields a list of results, review these carefully to assess their similarity to your preferred name, and determine whether they may affect the availability of your choice. You can see additional details about the listed businesses by clicking on the hyperlinked business name.
The online business search facilitates a preliminary check only. The Illinois SOS's office makes the final determination regarding name availability.
2.
Additional Illinois business search steps.
2.1
Submit a corporate name availability request.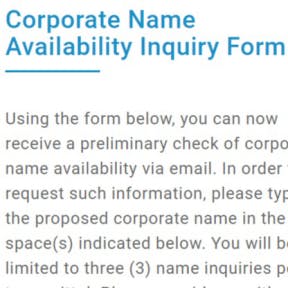 An alternative way of checking corporate name availability in Illinois is to complete and submit a name availability inquiry form online or by calling 1 (217) 782-9521. For a preliminary LLC name availability check, call 1 (217) 524-8008.
2.2
Perform trademark searches.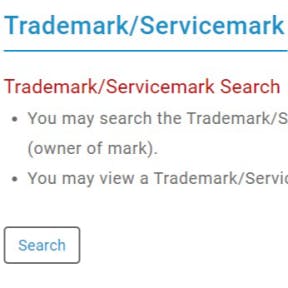 Conduct state and federal trademark searches to ensure that you will not infringe on another entity's trademark rights, as this can lead to serious legal consequences.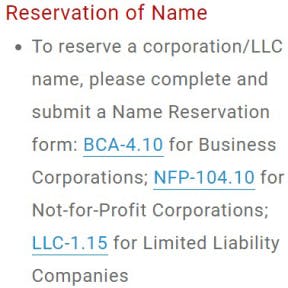 You can apply to reserve your business name for a period of 90 days. You will have to complete and submit an application, along with a filing fee of $25.00.
Forms vary depending on the type of entity: corporations must use the BCA 4.10 form; LLCs must use the LLC-1.15 form, and nonprofits must use the NFP 104.10 form.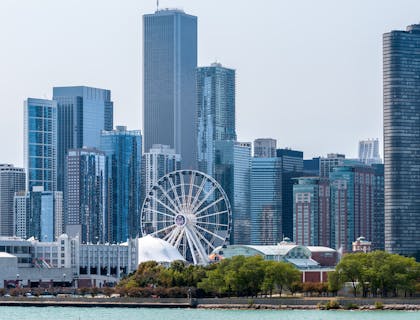 FAQs:
How do I find out if a business name is available in Illinois?
How do I check if an LLC name is available?
If there are no matches or very similar names, the name is likely to be available. The office of the Secretary of State makes the final determination regarding name availability.
Does it cost anything to do a business search in Illinois?
How do I search business names in Illinois?
You can use the online business search tool on the Illinois Secretary of State's website.
How do I register a business name in Illinois?
You can register your business name in Illinois when you register your business. If you have a sole proprietorship and choose to operate under a name that is different from your (the owner's) legal name, you must register the assumed name with your county clerk's office.