Distribution Company Name Ideas:
| Rank | Company Name | Description |
| --- | --- | --- |
| 1. | En Route Distribution | "En Route" means "on the way" and gives this business name an active presence and sense of energy. The name leaves a professional and sophisticated impression, conveying trustworthiness, speed, and efficiency. |
| 2. | Supply Connect | "Supply" conjures images of goods and conveys the nature of your distribution business. "Connect" communicates qualities of collaboration and highlights your company as the link between suppliers and consumers. |
| 3. | Deliver Industrial | "Deliver" not only speaks to the nature of your business but to the quality of your services, too. "Industrial" adds a sense of scale and strength to this name and highlights your business's area of expertise. |
| 4. | Dispatch & Deliver | The alliteration in this name makes it highly memorable. The connecting ampersand adds a level of elegance and sophistication to this name. It clearly captures the core nature of your services and reads like a mission statement or slogan. |
| 5. | InMotion Industries | "InMotion" has a dynamic sense of movement and energy, suggesting that your distribution company works quickly and efficiently. "Industries" evokes a sense of scale and adds weight and authority to the name. |
| 6. | EZ Logistics Co. | A catchy name with a subtle quirk. "EZ" sounds like the word "easy," highlighting the efficiency and quality of your distribution services. "Logistics" is associated with complexity and intelligence, while "Co." gives this name a sophisticated appeal. |
| 7. | Speedy Supply | Another example of how alliteration can make a name highly memorable. "Speedy" adds vibrance and energy to this name, highlighting the efficiency of your services, while "Supply" evokes a sense of reliability. |
| 8. | Transit Industrial | "Transit" clearly captures the nature of your business and its services. The word also has an active presence, which evokes a sense of attention and readiness. "Industrial" speaks to the type of sectors that your business caters to and adds authority to the name. |
| 9. | DistriSolve | A clever name that is a combination of "distribution" and "solve." This name conveys notions of critical thinking and problem solving, highlighting the quality of your services while remaining quirky. |
| 10. | Express Delivery | "Express" is associated with speed and efficiency, positioning your business as a quick and reliable distribution partner. "Delivery" adds clarity to the name, directly conveying the nature of your services. |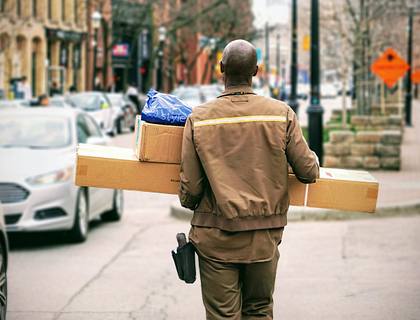 More Distribution Company Name Ideas:
Great Distribution Company Names:
Foods Express.
Merry Distributors.
The Wholesale Carriers.
Across the Country.
Large Scale Solutions.
Catchy Distribution Company Names:
Bringing Supplies.
On-Demand.
Retail 2 You.
Goods & Go.
OutFitters.
Memorable Distribution Business Names:
Complete Orders Co.
Bulk in Motion.
Central Logistix.
3 Elements Distribution.
Highway Group.
FAQs:
How can I come up with a name for my distribution business?
Consider the type of products and industries that your distribution business serves.
Do some research to see how other distribution businesses approached their company names.
Make a list of keywords that capture the values of your business.
Use a business name generator to combine those keywords and produce unique name options.
Pick your favorite name and check that it is available.
Secure the name and its corresponding domain name.
Is there a distribution company name generator?
Yes, NameSnack is a free and intuitive tool that creates scores of brandable name ideas from a few input keywords.
What are some existing distribution company names?
Wurth Industry North America.
MRC Global.
Winsupply.
Fastenal.
Motion Industries.