Bait Shop Name Ideas:
| Rank | Business Name | Description |
| --- | --- | --- |
| 1. | Bait & Tackle | Simple and elegant. This name has a timeless quality to it and clearly conveys what your bait shop offers, highlighting some products and suggesting variety. The connecting ampersand adds sophistication to the name. |
| 2. | Gone Fishing Bait Shop | A clever and quirky name that leverages the popularity of the phrase "gone fishing" to be highly memorable. This adds a playful and humorous element to your bait shop's name that will resonate with fishing enthusiasts. |
| 3. | The Live Bait Shack | "Bait Shack" is an informal term for a bait shop and adds a level of authenticity and ruggedness to your shop's brand. "Live" highlights your business's niche as a live bait shop and implies freshness and quality. |
| 4. | Fisherman's Allure | This clever name achieves its appeal through layers of meaning. "Fisherman's" captures your target market and alludes to the nature of your shop. "Allure" adds a mysterious aspect to the name and contains within it the word "lure," referencing bait for both fish and their catchers. |
| 5. | Deep Water Bait Shop | This name has a sophisticated appeal that will resonate with serious offshore fishing enthusiasts. "Deep Water" adds weight to this name and positions your shop's niche as a leader in deep-sea lures and bait. |
| 6. | Baited! | This one-word shop name is snappy, super memorable, and has a modern appeal. The exclamation point adds a sense of energy and enthusiasm to the name. The name is highly versatile and would work well for a range of bait shops. |
| 7. | The Worm Wranglers | A perfect name for a niche bait shop that specializes in live worms used for bait. "Wranglers" adds a personable and quirky character to this name, making it super memorable, while the subtle alliteration reinforces its playful appeal. |
| 8. | Catch & Release Bait Shop | Simple and professional. This name clearly captures the nature of your bait shop. The ampersand adds a level of sophistication to the name, while "Catch & Release" suggests your business's niche and highlights qualities of sustainability and ethicality. |
| 9. | The Reel Secret | "Reel" is a pun on the word "real," suggesting that you have a genuine secret for fishing enthusiasts. That "secret" is your bait, and this creates a sense of intrigue, making for a highly alluring name for a bait shop. |
| 10. | Live Hook | This name is punchy and conjures an image of a wriggling worm on the end of a fishing line. "Live" highlights your shop's specialty in providing a range of living bait and suggests freshness and quality. |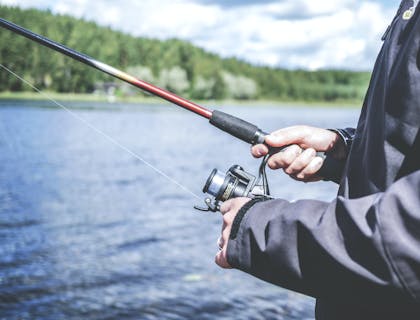 More Bait Shop Name Ideas:
Great Bait Shop Names:
Blue Fish.
Big Catch.
Captain Hook.
Seven Seas.
Rising Tide.
Memorable Fishing Bait Company Names:
North Shore.
Bait Bay.
Golden Hook.
Big Splash.
Coast to Coast.
Unique Bait Shop Names:
Lucky Lures.
Ocean Life.
The Sea Anchor.
True Fisherman.
Blue Paradise.
FAQs:
How can I come up with a name for my bait shop?
Consider the type of bait that your shop sells and who your primary target market is.
Draw inspiration from your local area, different types of bait, and fishing jargon.
Research how similar shops have approached their names.
Make a list of keywords that will differentiate your shop from competitors.
Use a business name generator to combine these keywords and create unique name options.
Pick your favorite name and check that it is available.
Register the corresponding domain name.
What are some names of existing bait shops?
Off The Hook Bait Shop.
Goin' Fishin'.
Bay Baits.
Hook-Line & Sinker Bait.
Get Hooked Bait and Tackle.