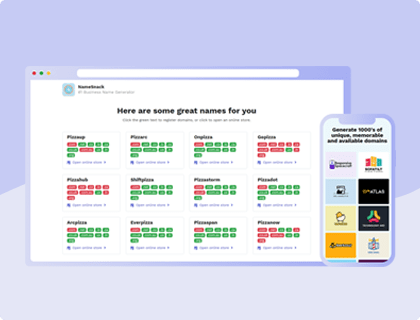 Business Name Generator
Enter words related to your business to get started.
Mobile App Name Ideas:
| Rank | Mobile App Name | Description |
| --- | --- | --- |
| 1. | Daily Scoop | Great for a news outlet, meal planner, or even a supplement reminder app. Sounds reputable. |
| 2. | Set Calendar | Suggests readiness and sounds like a voice command. Inspired by "set" in "ready, get set, go." |
| 3. | Temporary Match | Whether used for speed dating or connecting employers with temp staff, this app minimizes guesswork. |
| 4. | The Insight Tap | For consulting/advisory apps. "Tap" suggests abundance. It also imitates the sound of typing. |
| 5. | Solidelivery | For a delivery service, or a public speaking or speech therapy app. "Solid" suggests efficacy. |
| 6. | Rushgrid | Alludes to the content of a time-sensitive brain teaser or an app that helps users avoid gridlocks. |
| 7. | Timergram | For users who want to manage their screen time, particularly on social media (hence "[Insta]gram"). |
| 8. | Temple Storm | Suggests action, urgency, and an adrenaline rush. Suitable for conquest-type games. |
| 9. | My Overflow Journal | For a gratitude journal or, more generally, a place to pen thoughts/ideas. Invites creativity. |
| 10. | Jump Temp | "Jump" suggests productivity and advancement. Suitable for a fitness app or recruitment platform. |
| 11. | Universe Gameplay | For philosophical or intergalactic games. Alternatively, for apps that accommodate multiple players. |
| 12. | Prep Yard | Safe testing space that may offer simulations. Can relate to driving, education, or job interviews. |
| 13. | Outlapse | Suggestive of boosting concentration, memory, productivity, judgment, etc. through competition. |
| 14. | Mixerware | A play on the words "mixing" and "software." For audio editing apps, photo and video editors, etc. |
| 15. | Gentle Unwind | Evokes a sense of calmness. Great for meditation and white noise apps, sleep trackers, and journals. |
| 16. | Evenboost | For apps that increase volume, responsiveness, etc. on phones. "Even" provides a feeling of harmony. |
| 17. | Viberush | Suggests a heightened mood and increased adrenaline. Suitable for games, motivation apps, etc. |
| 18. | Evensync | For file-sharing apps. Alternatively, for playing music/videos on multiple phones, simultaneously. |
| 19. | Lapse Loop | Suitable for video editing software, self-improvement apps, etc. Alliteration makes this memorable. |
| 20. | Isocrush | Alludes to goal-oriented gameplay that may include destruction or elimination. |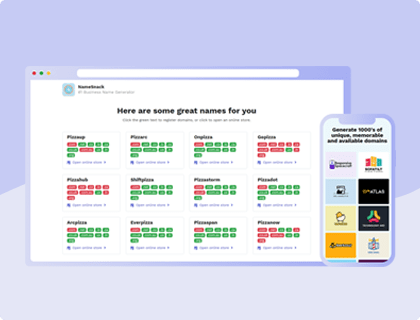 Business Name Generator
Enter words related to your business to get started.
FAQs:
What are some unique marketing app names?
Find Your Reader.
Article Genius.
Content Locator.
Feature Pusher.
Subscriber Wizard.
Organic Booster.
Content Promoter.
Find New Readers.
What are some catchy educational app name ideas?
Space Crusade.
Solidelivery.
Nouveau Bytes.
Time Travel Hub.
Perfect Your Speech.
Word Gobbler.
Xpress Math.
Language Hub.
What are some attractive names for apps?
Daily Scoop.
Timergram.
My Overflow Journal.
Mixerware.
Gentle Unwind.
Viberush.
Evensync.
Isocrush.
Where can I find an app name checker?
You can use namecheck.com to identify whether there are any apps that share your preferred name in the Google Play Store or Apple Store.
Where can I find a mobile app name generator?
Try NameSnack — a free, AI-powered tool that can generate thousands of unique mobile app names. You'll be asked to provide one or more relevant keywords, enter a short business description, and to identify which of the NameSnack-suggested keywords you'd like included in the name generation process. Be sure to select "Mobile App" when asked what you are naming.