Lash Business Name Ideas:
| Rank | Business Name | Description |
| --- | --- | --- |
| 1. | Blink of an Eye | "Blink" references the seductive way of letting someone know that you are interested in them. It references quick service and places the focus on the eyes, just like beautiful lashes do. |
| 2. | Amazing Lashes | "Amazing Lashes" is what customers strive for when they visit a lash salon. Choosing words like these that are familiar to your customers will make your business name easy to remember. |
| 3. | Eye-catchers | Good-looking lashes will catch the eyes of people looking at your customers. The name emphasizes you are selling products for the eye area. This makes the name versatile and allows for expansion to other eye-related products. |
| 4. | Smashing Lashes | This informal reference to good-looking lashes will resonate with younger clients. The name can be used for either a salon or a business selling lash products. |
| 5. | Elegant Eyes | If you are in the business of providing lash treatments, then a name such as this will tell clients that your treatments will add elegance to their appearance. If used correctly, the assonance of "E" can be used to represent the eyes in your logo. |
| 6. | At a Glance | "At a glance" means "immediately upon looking" and references that people will notice your lashes immediately. Use the name for lash extensions or a salon. |
| 7. | Y'd I'd | This playful way of writing "Wide Eyed" is memorable and very modern. The name lends itself to creative logo designs and branding material, while the apostrophes and the shape of the combination of letters represent eyelashes. |
| 8. | Liquid Lashes | If you produce and sell products that promote thicker and healthier eyelashes, indicating that in the name is effective. Liquid indicates that your products are fluid and that there is no sticky residue associated with stick-on lashes. |
| 9. | Swoon | "Swoon" means that you are overcome with admiration and adoration, just like clients will be adored and admired when they make use of your services. One-word names are effective as clients can remember them easily, and it improves branding possibilities. |
| 10. | Smokey Eyes | No facial feature is as beautiful and alluring as deep, dark smokey eyes. The name indicates that your product or service will pull the attention to the eyes as smokey eyes normally go with thick and long lashes. |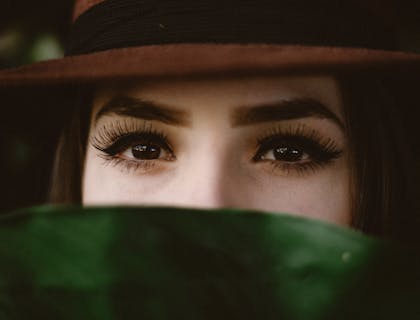 FAQs:
What are some great lash business name ideas?
Liquid Lashes.
Elegant Eyes.
At a Glance.
Smashing Lashes.
Amazing Lashes.
What are some exotic lash business name ideas?
Y'd I'd.
Smokey Eyes.
Swoon.
Eye-catchers.
Blink of an Eye.
What are some catchy lash business name ideas?
Swoon.
Y'd I'd.
Flutter.
Liquid Lashes.
Elegant Eyes.
What are some real-life business names?
Brow Rituals - A Beauty Company.
Envious Lashes.
The Lash Fairy.
The Lash Lounge Chicago.
iGlow Eyelash Extensions.
How do I choose a name for a lash business?
Do some research on what your competitors named their businesses.
Write down some keywords and phrases related to your products and services.
Feed the keywords into a business name generator and create a shortlist of possible lash business names.
Shortlist your favorite names and ask for feedback from your friends and family.
Check if your favorite name is available.