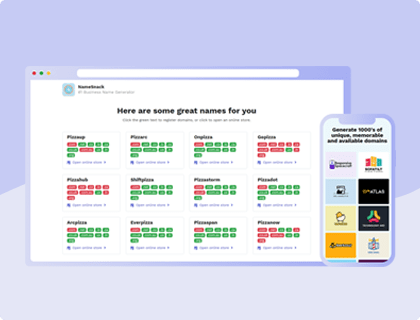 Business Name Generator
Enter words related to your business to get started.
Ice Cream & Frozen Yogurt Business Name Ideas:
| Rank | Business Name | Description |
| --- | --- | --- |
| 1. | Pure Scoop | Offers a sense of authenticity. Can work for a business that sells health-conscious frozen dessert. |
| 2. | Candied Swirl | A fun name that's suggestive of sugary products. Evokes visual imagery. |
| 3. | Froyo Emporium | For a store that sells a wide variety of frozen yogurt. |
| 4. | Icy Treats | A simple but memorable name that conveys meaning. |
| 5. | Grand Swirl | Sounds elaborate and sophisticated. Suitable for an ice cream and/or frozen yogurt business. |
| 6. | Unbound Gelato | Ideal for an innovative store that sells Italian or Italian-like ice cream. |
| 7. | Swirl Republic | A cool but timeless option. For a business that offers many types of desserts. |
| 8. | Glacial Scoop | "Glacial" references the frozen nature of ice cream and froyo. |
| 9. | Vanilla Cone | For an ice cream parlor that's anything but ordinary. |
| 10. | Icelytical | A combination of the words "ice cream" and "analytical." Fun to say out loud. |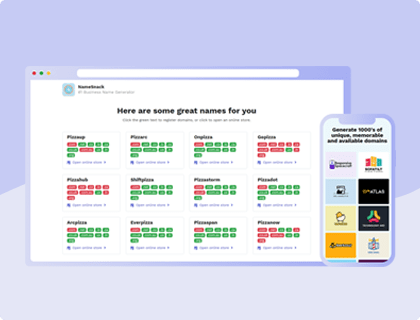 Business Name Generator
Enter words related to your business to get started.
FAQs:
How do I choose an ice cream or frozen yogurt business name?
Ask trusted members of your family, friend group, and target market for feedback. Test for memorability, whether the names are easy to spell and pronounce, and connotations tied to each.
Review the results of your research to select a catchy option that portrays an accurate, favorable image of your company. Customers should be able to spell and pronounce it.
Check that your name is unique.
What are some unique ice cream and frozen yogurt business names?
Pure Scoop.
Candied Swirl.
Froyo Emporium.
Icy Treats.
Grand Swirl.
Unbound Gelato.
Swirl Republic.
Glacial Scoop.
How can I be sure that my ice cream business name is good?
Test it on trusted relatives, friends, and prospective customers. Ideally, you'll want to confirm that your name is memorable, easy to spell and pronounce, and that it conveys meaning. You could also use Google Ads Keyword Planner to determine high-traffic keywords associated with your business — at least one of which could be included in your business's name.
What are some well-known ice cream and froyo business names?
Baskin Robbins.
Menchie's Frozen Yogurt.
Häagen-Dazs.
Yogen Früz.
Cold Stone Creamery.
Tutti Frutti Frozen Yogurt.
Braum's.
Yogurtland.
Where can I find an ice cream business name generator?
Try NameSnack. You'll be prompted to enter one or more keywords related to your ice cream business, which you can do simultaneously or in batches. Thereafter, you'll be able to enter a short business description, select the type of business under consideration, and highlight which of the NameSnack-suggested keywords you'd like included in the name generation process.