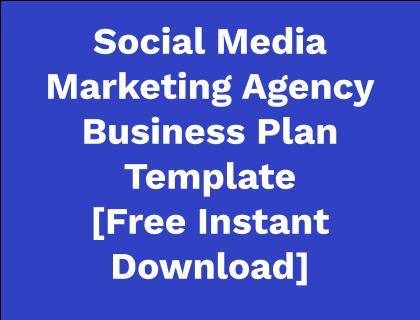 Social Media Marketing Agency Plan — Free Template
Download this generic business plan template in Word format and create your own business plan.
Download Now
How to Start a Social Media Marketing Agency:
A step-by-step guide on how to successfully start a social media marketing business.
Pros and Cons:
Pros
Inexpensive to start.
You can have fun while you are working.
You can work from anywhere.
You don't need staff.
There is a growing need for social media managers.
Cons
It's a balancing act—you need to balance multiple clients' social media accounts simultaneously.
Some businesses don't understand the importance of social media marketing.
FAQs:
How much does it cost to start a social media marketing business?
It costs between $1,410.00 and $2,575.00 to start a social marketing management agency.
How much does a social media marketing manager make?
Our research found social media managers make around $15.52 per hour, and an average of $49,390 per year.
How much should I charge for social media consulting?
It depends on your experience, and referrals and testimonials will help you to earn more. Our research found social media consultants charge anywhere from $15.00 to $250.00 per hour, and even more. The average cost for digital marketing services ranges from $2,500 to $12,000 per month for SMBs.
How do I calculate an hourly rate for consulting?
Decide what salary you would like to make, divide it by the number of working weeks in a year, and then by 40 for your number of working hours per week. Mark that number up by 25% to 50%.
How do I get my first social media marketing clients?
Network, and approach your existing contacts.
Offer your services for free, and ask for referrals.
Set up a landing page and promote it.
Do email marketing or make cold calls.
Keep an eye on job boards and freelancing sites.
How do I convince clients to use social media marketing services?
Point out that social media marketing attracts traffic that turns into leads.
Explain to them that you are giving them access to a valuable customer service tool.
Make them aware that your services free up time for them to grow their business in other ways.
Tell them that their following may spread their message to their own contacts.