70% of people aged 24 to 34 enjoy spending time and entertaining outdoors. This is leading to a rising interest in gardening. Gardening is also a lucrative industry because of the small living spaces in urban environments, which increases the need for small-space gardening.
The global gardening industry has been on a slow but steady growth trajectory for several years and is expected to continue on that path, according to Statista. With the global online market for home a garden products forecast to grow even more rapidly, the future looks promising for aspiring entrepreneurs in the gardening sector.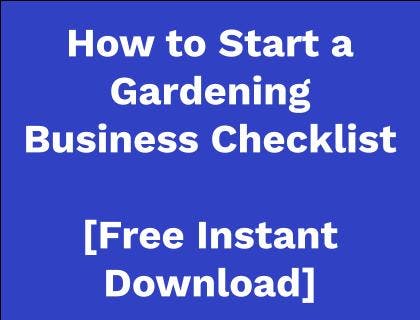 How to Start a Gardening Business — Checklist
Stay on task and cover your bases with our detailed checklist.
Download Now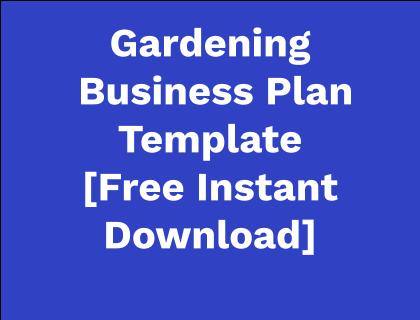 Gardening Business Plan — Free Template
Use our free Microsoft Word template to help you create a great business plan.
Download Now
How to Start a Gardening Business: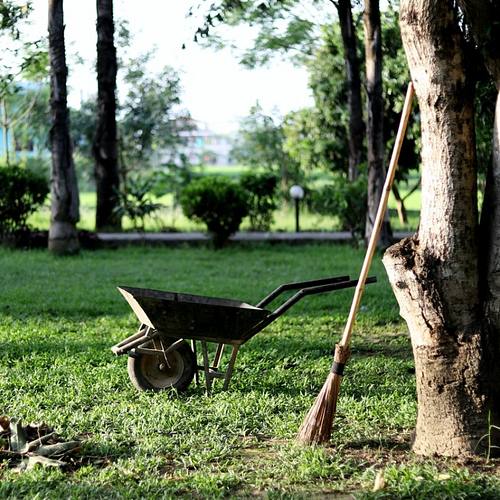 Gardens can be outdoor plots, containers, or "outdoor rooms," created to look like an outdoor space. Gardeners generally perform tasks like watering, trimming, raking, digging, planting, hoeing, leaf-blowing, and snow-clearing. To start your own gardening business, follow our step-by-step guide below.
1.
Determine if a gardening business is right for you.
1.1
Understand what a gardener does.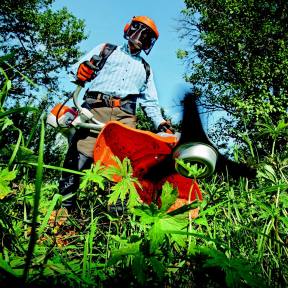 Gardeners may work for residential or commercial clients or both and will work with clients to understand their gardening vision and what they want from the design. You will then need to sketch out the design and draw up a budget and an estimate for your client.
Gardeners must interact and work with tradespeople to order gardening supplies and equipment to complete each gardening project. Typically, gardeners cultivate turf, plant trees and shrubs, construct water features, and order outdoor furniture, among other tasks.
1.2
Ensure you have the necessary skills.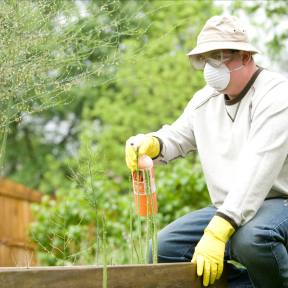 There are no formal qualifications necessary for starting a gardening business but you do need to have extensive knowledge of plants and the care of plants. There are also some necessary soft skills. To be a good gardener, you need to demonstrate a love for the outdoors as well as outstanding creativity. Some additional skills include:
Great communication and interpersonal skills.
Excellent planning, organizational, and design skills.
Experience in gardening (you can use your own garden, friends and family's gardens, or volunteer gardening jobs to build experience).
Good negotiation skills for settling the cost of any job and ordering supplies at the best price.
Flexibility and a calm disposition in the face of clients changing their minds, accidents, and unforeseen poor weather conditions.
Basic administrative and business management skills.
Basic marketing skills.
A drive towards growth no matter how successful you become.
An eye for innovation and new ideas.
Good physical health and strength to handle the heavy lifting.
1.3
Consider the downsides and dangers involved.
The biggest issue with starting a gardening business is that your income will be dependent on the weather, and there may be lags during the winter periods. To overcome this, you can plan tasks that can be done in all seasons.
While you may be physically fit and strong, gardening requires repetitive bending, squatting, and reaching, which can lead to joint and back problems. Furthermore, prolonged exposure to sunlight can cause issues such as dehydration and skin cancer.
Gardeners can be asked to do some dangerous activities, such as pruning tall trees, working in close proximity to electrical wires, and operating dangerous equipment, such as power saws. By owning your own gardening business, you will need to accept these risks.
1.4
Think about the type of gardening services you want to offer.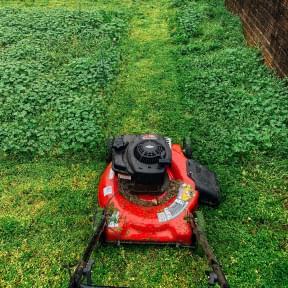 Determine what type of gardening services you would like to offer. Generally, garden businesses offer one or more of the following services:
Landscape design: installing plants, pathways, water elements, outdoor fixtures, fences, and pool decks.
Lawn services: fertilizing and maintaining lawns with the correct equipment.
Decorative pots: finding the right pots to suit the plants and balancing the overall space. Used in small-space gardening.
Garden maintenance: periodic landscaping, feature maintenance, lawn mowing and edging, pruning, and pest control.
Consulting: providing advice and coaching.
2.1
Prepare a business plan.
To successfully start your gardening business, a business plan is a must. The business plan helps you to plan out all the necessary steps you must take, the finances you'll need, marketing solutions, and your long and short-term goals and assets.
You will need to have sales goals and inventory to reach those goals, but since you can't grow everything yourself, you will also need to outline where you will source your products.
A great gardening business plan consists of:
Executive summary.
Start-up summary.
List of products and services with prices.
Market analysis.
Financial strategy.
Marketing strategy.
Use our free gardening business plan template at the top of this page to get started.
2.2
Create a start-up summary.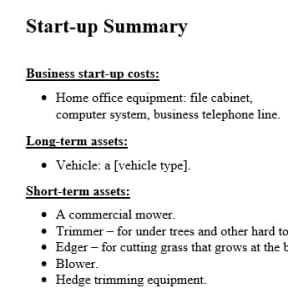 Specific to gardening business plans is the start-up summary and your list of short and long-term assets. These are lists of the tools and equipment you will need to start your gardening business. Large equipment, such as lawnmowers, can be expensive if you buy quality products, which you will want to do. You will need to divide your equipment and tool needs into short-term assets, such as protective gear, and long-term assets, such as a lawnmower.
2.3
Define your products and services.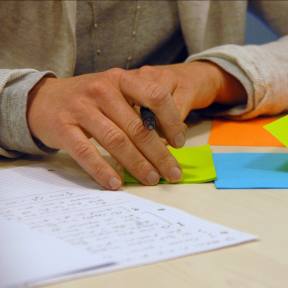 The most important information that must be added to a gardening business plan is about the products you will offer. With your list of products and services, you will need to detail how you will grow or source your products, how your products will be distributed or stored, and how you will care for them during the winter seasons.
Since you cannot grow all of your own products, you will also need to research suppliers and provide an outline of the top suppliers you will use and their prices in your business plan.
Note how the services you offer will change depending on the season. For obvious reasons, you cannot plant flowers or shrubs in winter when it is snowing and the ground is frozen but you also don't want your business to be closed for a whole season. So you may need to outline what services you can offer for the different seasons that will keep your business going and generate income year-round.
2.4
Outline your finances.
Create a list of your start-up expenses and revenue projections. Identify your break-even point and prepare a pro forma profit and loss statement.
The good thing about going into business as a gardener is that you don't need a lot of outside funding. You can start with what you have and what you know and then expand on your services and tools as you gain a dedicated customer base.
However, you will need to set aside financing for the following:
Training: Having qualifications and certifications can help you to stand out from your competitors.
Tools and travel: The majority of your finances will go towards buying the right tools for your business as well as fuel costs for transporting your equipment and reaching your clients' homes or businesses.
Suppliers: You will not be able to grow all of your own plants and will probably source most of your materials and supplies from wholesale stores and online sites.
Office and storage locations: You can work from home, but a storage location is essential for your larger pieces of equipment as well as storing plants and products for a particular project.
Business license and permits: Each state has unique licensing and permit requirements that you will need to legally start your business.
Marketing: You will need funding for buying ads, printing flyers and posters, putting up signs, and developing a website.
Insurance: Buying insurance is a must for any business, but as gardening can be a dangerous occupation and is dependent on weather conditions, you should definitely consider business interruption insurance.
3.
Take care of the legal requirements.
3.1
Open a business bank account.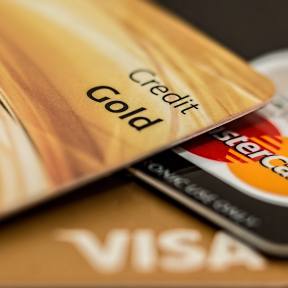 Apply for a small business account and a business credit card and use this account when applying for licenses, permits, taxes, and insurance. This will help you to keep your business expenses separate from your personal expenses.
3.2
Choose a legal structure.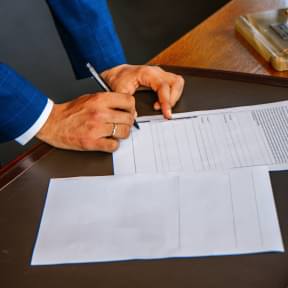 When planning your gardening business, you will need to choose a legal structure for tax purposes. The simplest and most popular route for gardeners is to operate as a sole proprietor. However, you can also set yourself up as a limited liability company (LLC) or, if you have a partner, as a limited liability partnership.
3.3
Register with the IRS.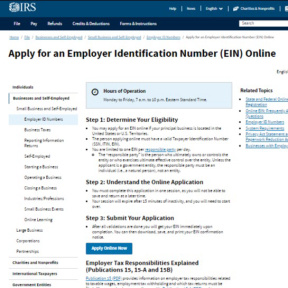 Once you have chosen your legal structure, you will need to register with the IRS and receive your Employer Identification Number. There are various tax deductions you can make as a small business owner.
You can apply for an EIN online. Select "Apply Online Now" and begin the application. Once you have completed and submitted the application, you will receive your EIN, which you can then download, save, and print.
3.4
Get the necessary licenses and insurance.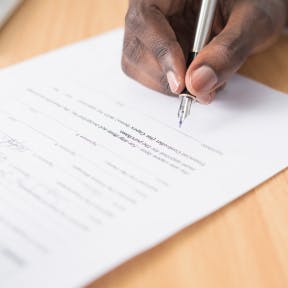 Each state has its own licensing and insurance laws and requirements. You may also need to apply for permits within your particular town. To check what the requirements are for your area, your county clerk, small business association, the state department of business regulation, and tax revenue office can advise you.
3.5
Review your insurance needs.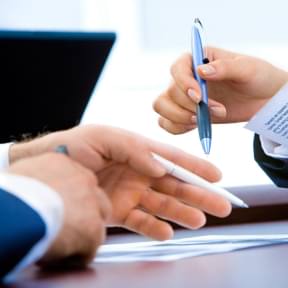 Buying business insurance is a good idea for any business and may also be a requirement in your state. As a self-employed gardener starting your own business, you should consider the following basic insurance needs:
Business insurance.
Vehicle insurance.
General liability insurance.
Public liability insurance (in case you cause any injuries or property damage while doing gardening work).
Workers' compensation insurance (some states require this even if you don't have employees).
Equipment insurance.
Income protection insurance (for circumstances where you are prevented from working).
Critical illness insurance.
Business life insurance.
3.6
Check if your state has a pesticide charter.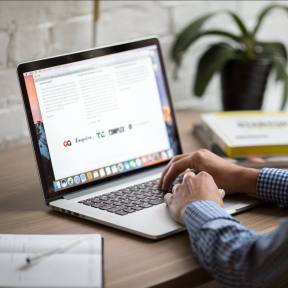 If you are planning to work with pesticides, you will need to check if your state has a pesticide charter. The pesticide charter is a permit issued by the state department to a business that offers custom pesticide applications. A pesticide charter permit is required for each location in the state that the business operates in.
This can be a complex and involved process with testing, different licensing categories, and the number of individuals within your company who apply for licensing. It also requires surety bonds and liability insurance valued in the hundreds of thousands of dollars.
For example, Tennessee's pesticide charter requires new companies to hold a surety bond of $50,000.00 and proof of liability insurance with a minimum coverage of $250,000 per incident and a $500,000.00 aggregate. On average, landscape gardening businesses can expect to pay around $45.00 per month, or $530.00 per year, for general liability insurance with a $1 million per occurrence limit.
4.
Buy gardening equipment and supplies.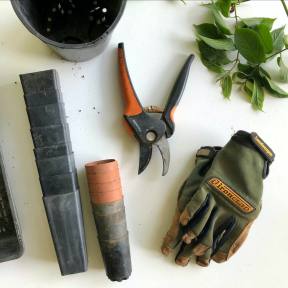 Refer to your business plan and purchase the tools and equipment you need to operate your business.
The basic equipment needed for a gardening business includes:
Gardening wear: Gloves, sun hat, and other protective gear.
Tools: Spades, hand trowels, garden forks, garden hoes, rakes, hand cultivators, bypass pruners, long garden hoses, watering cans, wheelbarrows, etc.
Large equipment: Lawnmowers, hedge trimmers, a vehicle.
Gardening products: plants, trees, compost, lawn care products, paving, soil.
Gardening design and administrative tools: drawing board, stationery, a laptop.
4.2
Source gardening supplies.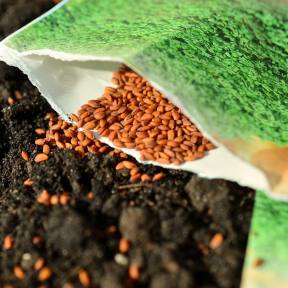 Research suitable suppliers of gardening materials, such as fertilizers, pesticides, plants, and seeds.
Here are some of the top resources for replenishing garden supplies: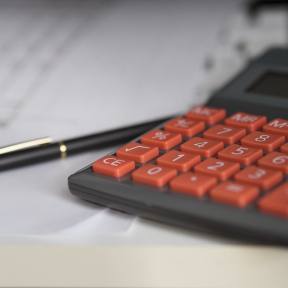 There are a lot of factors to consider when setting your rates, such as costs involved, costs of labor, and competitors' pricing. You also need to consider the types of services you offer.
Generally, garden maintenance is offered at a set rate and garden manicuring (ensuring a perfect garden) is charged at an hourly rate. Also, don't allow the size of the garden to dictate your pricing. A large garden may only require lawn maintenance while a small garden could require a lot more work.
Consider implementing a minimum call-out charge as your travel time between jobs will be unpaid.
Check your competitors and compare pricing to help you set your rates. The average rate for garden maintenance in the U.S. is around $20.00 to $50.00 per hour.
5.2
Set up an invoicing and payment system.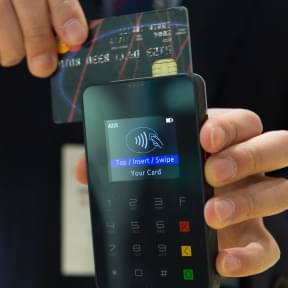 Implement an invoicing and payment system to keep things simple and organized. Great invoicing software will include time tracking integrations so that you can keep track of the hours you work and add them to your invoices. It's also important to keep track our your expenses.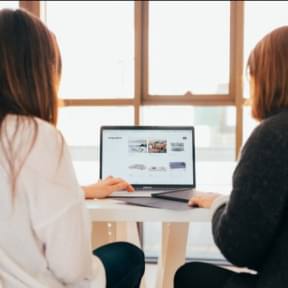 One of the best ways to provide clients with information about your services is to build a website. Your website should mainly provide information about your services, the physical area you cover, and your contact details (phone, email, booking form, etc.). You should also include a digital portfolio with pictures of gardening work you have done.
Use search engine optimization to help bring your business to the top of Google searches.
Use appointment scheduling software integrated with your website so that clients can book online. That way, you won't miss an appointment because you are out on a job. A great appointment scheduling software will also send reminder notifications to you and your client.
Include a blog section on your website for content marketing. Here, you can post helpful tips and information about different gardening topics, such as local issues gardeners may face and solutions to them.
Add social media links to your website to use as marketing tools. You can use Twitter, Facebook, Instagram, Google, and Pinterest to post ads and links back to your website.
6.2
Create a business portfolio.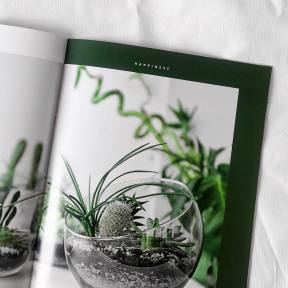 A business portfolio is a way to showcase your work and promote your services to potential clients. It should include samples of your work, such as pictures, videos, and other visual materials. You can show before and after pictures and use your own garden as a real-life presentation.
Be sure to include the following in your business portfolio:
A list of accomplishments. List exceptional things you have done as well as your specialties.
Reviews and references. Include feedback and references from previous clients, contests you've entered, and other professionals in the field.
Details of your business. Add specific details, such as when and why you started the business, how many customers you have, your key suppliers, the products and brands you specialize in, any promotions you may have or will run, details of your website, and details of any publications you may have been featured in.
If you are just starting out and don't have any clients, take on some volunteer gardening work. This will give you some experience as well as potential references and reviews.
When creating your portfolio, make sure it is presentable if it is a hard copy. You should also include a list of contents so that clients can easily find what they are looking for.
Add a digital copy of your business portfolio on your website so that potential clients can easily see examples of your work.
6.3
Define your target audience.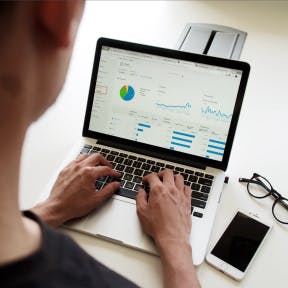 There are various ways you can market your business, but before launching your marketing campaign, you need to know who to target.
Obviously, your target clients will be anyone who has an outdoor space, but there are some demographics who won't need your services. The National Gardening Survey showed that 18 to 34-year-olds occupy 29% of gardening households and were the highest spenders at gardening centers, indicating that they are more likely to do their own gardening. So, you may want to focus on targeting your services at the elderly or busy professionals.
Look for people who have not realized that their outdoor space needs care. Pointing out things you can do to improve the appearance of their gardens is a great way to gain new clients, although they will probably only accept your cheapest services.
Another avenue for potential clients is businesses or commercial properties with outdoor spaces that can be used to make the property more attractive. This may include apartment buildings, residential estates, property management companies, communal gardens, public spaces, and commercial grounds. There are also people who may need maintenance for greenhouse or office plants.
6.4
Use a variety of marketing tools.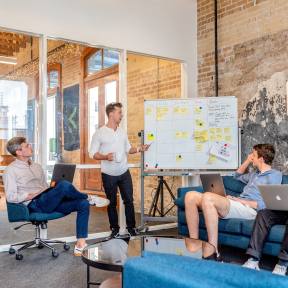 There are several different tools you can use to market your business, including the following:
A creative logo design: Having a great logo design builds recognition for your brand and makes a good impression. Having your logo prominently displayed on your work vehicle will also work as free advertising.
Your website: Use your blog and the photos on your website and business portfolio to showcase your strongest work. Use a good DSLR camera to take quality photos and review and update your photos regularly.
Social media: A great way to share content, connect with new clients, and maintain relationships with existing clients. Your mission statement will help you to focus your message.
A mailing list: Create a mailing list for your clients and send them email letters about your latest changes, new blog posts, promotional activities, discounts, etc.
Mainstream and online advertising: Advertise in newspapers and on billboards, if you can afford it. You can also use social media and Google for online advertising.
Promotional activities: Use both online and offline activities to build recognition for your brand, such as flyers, signs, posters, etc.
Word of mouth: Don't be afraid to ask your clients for references and reviews. If they are happy with your services, they will recommend you to others. You can also go door-to-door to talk to people and hand out flyers.
Make a good first impression and instill confidence in your abilities by wearing a uniform, getting a logo for your vehicle, and being open, friendly, and easy to contact.
7.1
Determine if you need help.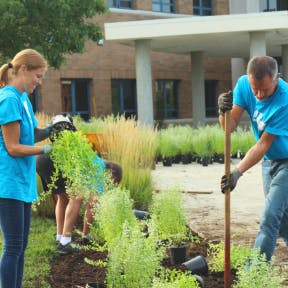 Hiring help depends on how much work you have, how much you can handle on your own, and whether your employees will have enough work. You can hire some workers if your research has shown that you will have a lot of work, but it is usually best to wait until you have a confirmed list of clients. Generally, when you have more work than you can handle, it's a good time to start looking for employees.
Start by hiring workers on a part-time basis to be sure that there will be enough work for them to do.
7.2
Create a job description.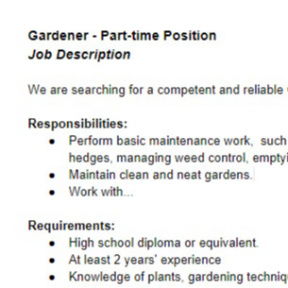 Clearly define the position you are offering. Start with a general introduction to the role followed by a list of responsibilities and requirements.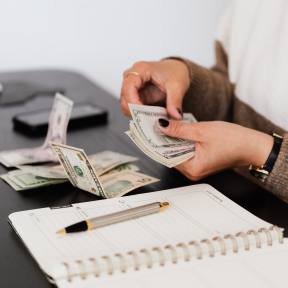 Research what the going rate for the position you are offering is. Offering a salary that matches or exceeds the general market rate will make it easier to attract top talent.
7.4
Look for suitable candidates.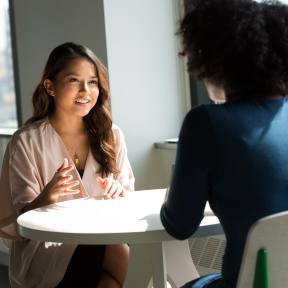 A good resource for finding employees is to contact nearby colleagues with horticultural or landscaping programs and talk to them about student work/study opportunities. You can also use traditional job adverts or online hiring tools to look for qualified candidates.
7.5
Register your new employee.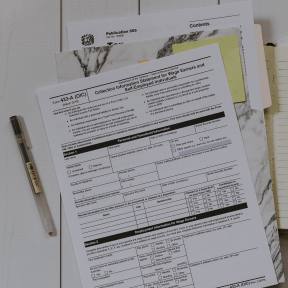 When you are ready to hire a candidate, you will need to add them to your payroll and fill out all federal and state legal requirements for all of your employees.
Pros and Cons of Starting a Gardening Business:
Pros
You can make a living doing what you love with enjoyable, outdoor work.
The potential profit of starting a gardening business is high as there are many people who are interested in maximizing their outdoor space but don't know how to.
There are many different directions you can take with your business: offering setup services, teaching, providing maintenance, or specializing in a specific area or feature.
You will enjoy flexible working hours.
Gardening is a consistent and ongoing process as gardens require constant maintenance.
Cons
If you live in a seasonal climate, your business may slow down in the winter seasons.
There are many large companies to compete with.
You will need extensive knowledge of organic materials, products, pesticides, and equipment to help you stand out among your competitors.
The work is labor-intensive and you will also lose paid time to travel between jobs.
If you damage your tools or the client's property, the cost to repair the damage will be high.
Tips for building your brand:
Take on any job at first to build your expertise and spread word of mouth.
Sell tools, products, and advice if job bookings are not going well.
Attend gardening events and contests to get noticed, build a network, and find and share new ideas.
Keep up to date with technology, new tools, and innovations in the industry.
Organize your business documentation so that you don't miss appointments, mix up designs, or miss tax filing deadlines.
Be friendly and pleasant to all clients.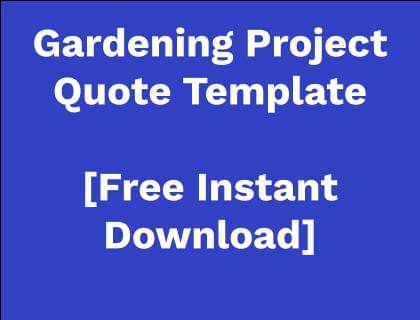 Gardening Project Quote - Free Template
Use our downloadable Microsoft Word template to estimate your project costs and quote your customers.
Download Now
Expert Advice:
| Source | Quote |
| --- | --- |
| | "Partnering with nature is critical, but partnering with fellow passionate and engaged professionals - each honoring the other's slice of expertise - is how we make some of the most positive impacts." |
Earning Potential for Gardening Businesses:
According to PayScale, the average hourly rate for a gardener in the U.S. is $15.31, with hourly rates ranging from $10.09 to $25.79. Bonus pay can range from $97.00 to $4,027.00 and profit-sharing can range from $0.00 to $2,000.00. The average gardener can expect to earn around $36,280.00 a year.
What's the difference between a gardener and a landscaper?
Gardening and landscaping are closely related, but there are some significant differences. Of course, there is also some cross-over of tasks.
Gardeners are focused on the health and well-being of plants and will usually maintain what a landscaper has created. They mow lawns, prune plants, do weeding, and fertilize the soil. They will identify pests and diseases and apply herbicides and feeds.
A good gardener knows which plants flourish in a particular area and season and where to buy the best plants. Gardeners know all about plants and horticulture, including how they grow, how to make them last longer, and the best position in the garden. Gardeners may also work on landscaping, such as inserting irrigation systems or outdoor furniture.
Landscapers often construct gardens where there were no gardens before. They will design the project and implement the construction, from putting together the plants, flowers, and other flora, to installing landscaping constructions such as pathways, decks, pergolas, and water features.
Landscape architects must get a degree and pass a national examination for a license, while landscapers do not necessarily need a license or qualification and may just implement what the landscape architect has designed. Landscapers may also work to maintain the garden they have constructed.
FAQs:
What tools do I need to start a gardening business?
Basic gardening tools include spades, hand trowels, garden forks, garden hoes, rakes, hand cultivators, bypass pruners, long garden hoses, watering cans, wheelbarrows, etc.
How much does it cost to start a gardening business?
Start-up costs can range anywhere from $500.00 for basic equipment to $100,000.00 to buy an existing business.
Here are some potential startup costs:
Business licenses and permits: $3,300.00
Business registration fee: $750.00
Insurance costs: $2,400.00
Stationary and utilities: $3,000.00
Quality equipment, tools, and work vehicle: $100,000.00
Building and hosting a website: $600.00
How do I market my gardening business?
A creative logo design.
Social media.
A mailing list.
Promotional activities.
Word of mouth.
Do you need qualifications to be a gardener?
No. The minimum requirement to be a gardener is a high school diploma. However, earning extra certificates and qualifications will help you to stand out among your competitors. You can get an associate's degree, a certificate, or a Bachelor's degree in horticulture, landscaping, or a related field in gardening. Clients also generally prefer hiring gardeners with experience.
How much can a self-employed gardener earn?
The earning potential for a gardener is high, as gardens will always need maintenance. According to PayScale, the average hourly rate for a gardener in the U.S. is $15.31.
How much should a self-employed gardener charge?
There are a lot of factors to consider when setting your rates, such as your overhead costs, costs of labor, and competitors' pricing. You also need to consider the types of services you offer. However, the average rate for garden maintenance in the U.S. is around $20.00 to $50.00 per hour.
What insurance do I need for my gardening business?
Business insurance.
Vehicle insurance.
General liability insurance.
Public liability insurance (in case you cause any injuries or property damage while doing gardening work).
Workers' compensation insurance (some states require this even if you don't have employees).