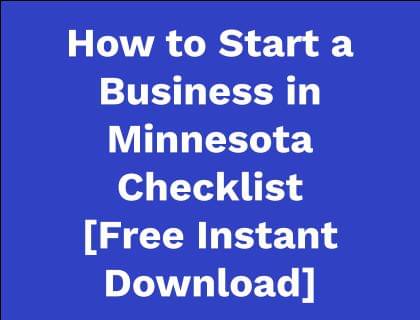 How to Start a Business in Minnesota Checklist:
Download this free business checklist in PDF format.
Download Now
How to Start a Business in Minnesota: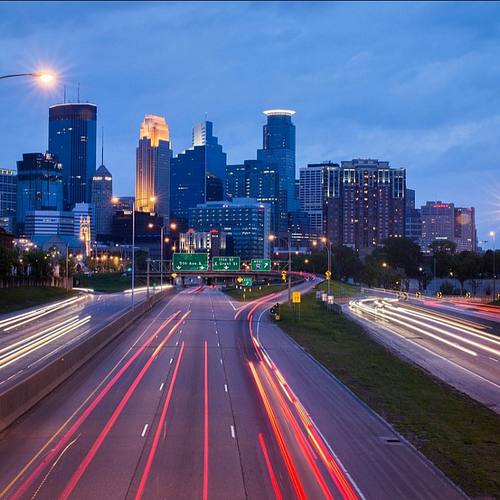 Minnesota is known for its strong economy, great business environment, and educated workforce, particularly in the Twin Cities of Minneapolis and St. Paul. While the high cost to incorporate and steep business taxes are a downfall for the state, there is still great support for startups from accelerators, incubators, and large corporations headquartered here.
1.1
Review Minnesota formation options.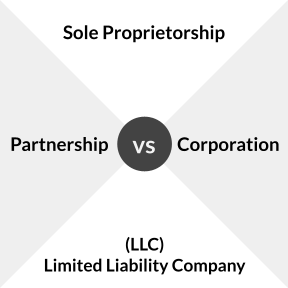 Minnesota offers six ways of forming your business. Review these closely and pick the one that fits your business best.
In Minnesota, small businesses are defined as firms with fewer than 500 employees.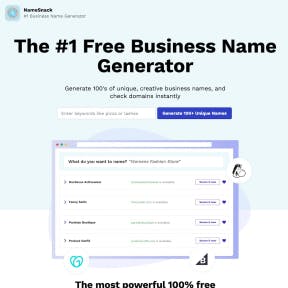 Once you have a business name in mind, you'll need to make sure that it is not already in use by another business. You can do this by completing a search on the United States Patent and Trademark Office (USPTO) site and the Minnesota Secretary of State (SOS) website.
You also have the option of reserving your business name for a period of 12 months.
If you are establishing a sole proprietorship or general partnership and plan on using a different name from your personal name, you will need to file a Certificate of Assumed Name with the state.
1.3
Get an employer identification number.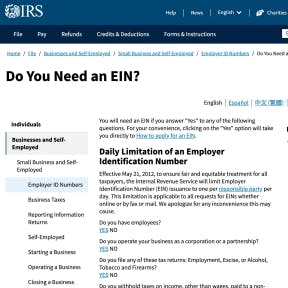 Nearly all businesses will need to register for federal taxes by applying for an employer identification number.
1.4
Register your business in Minnesota.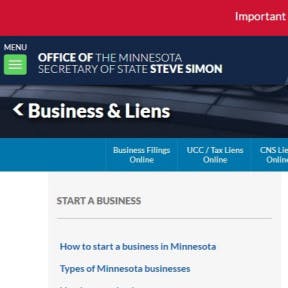 All business owners (excluding sole proprietors and general partners) are required to register their business in-person, by mail, or online with the Office of the Minnesota Secretary of State (SOS). You can do this quickly and easily by filing your formation documents online. The cost to incorporate ranges between $120.00 and $155.00.
Navigate to the Business & Liens section on the SOS website.
Enter your email address and a password and click on "Create Online Account."
You will receive an email with a link to create your account. Follow the link and complete your account delivery information.
Click on "Business Filings Online" in the menu bar.
Scroll down the page and select the entity type you want to register.
Follow the prompts to create and submit your online business filing and pay the required fee.
1.5
Obtain necessary permits and licenses.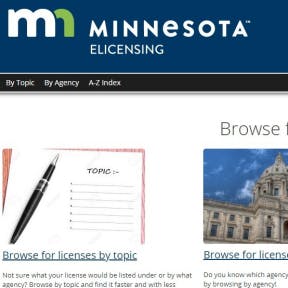 To find out if you need any state licenses or permits, go to the Minnesota E-licensing portal and complete a search. The portal is easy to use and provides information on more than 750 license/permit types administered by 47 state agencies.
You may also need to acquire a general business license in your city/county and comply with local ordinances specific to your business type. For example, commercial building contractors are not licensed by the state, but are required to register with their city and be bonded before they are issued permits.
In addition, certain businesses are required to comply with local zoning restrictions and environmental regulations, or carry certain types of bonds. Contact your local zoning board or planning commission for more information.
Here are a few professions that require licenses/permits in Minnesota:
2.
Register your business for taxes.
2.1
Register for a Minnesota State Tax ID.
You can apply for a tax ID online via the Minnesota Department of Revenue website, and receive your ID number in minutes.
You'll need your EIN, business name and address, NAICS code, the names and Social Security numbers of your business partners (if applicable), and a few personal details.
2.2
Register for Minnesota Sales and Use Tax.
If you have a taxable presence in Minnesota, meaning the sale of taxable goods or services to customers, you will need to register for sales tax. In addition, if you buy, lease, or rent taxable items to customers, you will need to register for use tax.
Business owners are required to file their tax returns online via e-services or by calling 1 (800) 570-3329.
Some cities and counties have individual sales and use taxes. Check with your local tax office for more information.
2.3
Register for Withholding Tax.
You must register for withholding tax if you have employees who live in Minnesota or if you pay non-resident employees for doing work in Minnesota. The 2020 tax rate is 5%.
For more information, check out the Minnesota income tax withholding guide.
2.4
Register for Corporation Franchise Tax (CFT).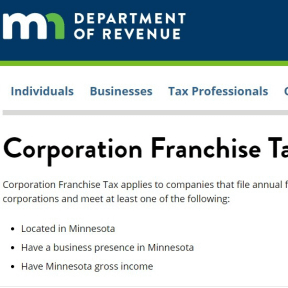 CFT taxes apply to C-Corporations that are located or have a presence in Minnesota and earn a gross income within the state.
3.
Report employees to the state.
3.1
Go to the Minnesota New Hire Reporting Center.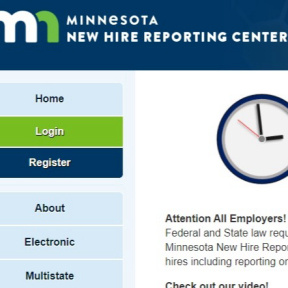 All businesses are required to report new and rehired employees within 20 days of being hired or returning to work via the Minnesota New Hire Reporting Center.
3.2
Obtain Workers' Compensation Insurance.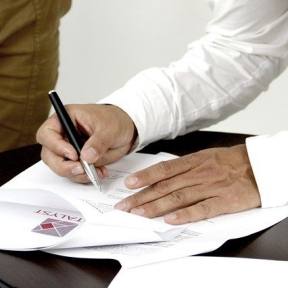 By law, all employers in Minnesota are required to obtain workers' compensation insurance for their employees. Go to the Department of Commerce for information about the various types of business insurance.
3.3
Display mandatory posters in your place of business.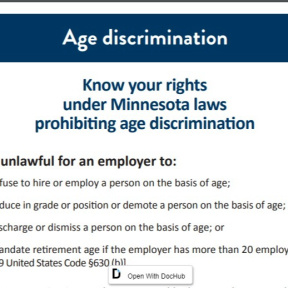 Employers are required to display 5 state-mandated posters in the workplace where employees can see them. All 5 posters are available for download from the Department of Labor and Industry in several languages.
Minnesota Business Filing Fees:
| Fee Type | Cost |
| --- | --- |
| Name Reservation | $55.00 |
| Certificate of Assumed Name | $50.00 |
| Business Corporation | $155.00 |
| Limited Liability Company | $155.00 |
| Limited Liability Partnership | $155.00 |
| Limited Partnership | $120.00 |
| Certificate of Registration (Trademark) | $70.00 |
Minnesota Business Types:
1. Sole Proprietorship.
A Sole Proprietorship is the simplest business structure and the least expensive to start. The business is owned and operated by one individual, who is personally liable for all business debts.
2. Corporation.
A Corporation is a formal business structure owned by one or more shareholders. The business is authorized to act as a single entity and recognized as such in law. There are two main types of corporations — S-Corporations and C-Corporations.
3. Limited Liability Company.
A Limited Liability Company (LLC) is the most common business structure. It separates the owner/s and the company from a business and liability perspective. An LLC is the best option for a small business as it is flexible, easy to set up, and requires minimal paperwork.
4. General Partnership.
A General Partnership is run by two or more individuals who manage the day-to-day business operations and are personally liable for all of the company's debts. This is the simplest form of a partnership with minimal paperwork.
5. Limited Partnership.
A Limited Partnership (LP) is similar to a General Partnership except that members do not manage the business and are only liable for the amount they invest in the company.
6. Limited Liability Partnership.
A Limited Liability Partnership (LLP) is similar to a General Partnership but each partner is protected from other partners' debts and obligations.