Holistic Business Name Ideas:
| Rank | Business Name | Description |
| --- | --- | --- |
| 1. | The Holistic Health Center | "Center" indicates that you have a full range of health services. |
| 2. | The Holistic Health Coach | This name shows that you provide health coach services with a holistic approach. |
| 3. | Holistic Healing & Therapy | "Therapy" advertises to clients that you offer counseling services. |
| 4. | Holistic Health Professionals | "Professionals" shows that you have experience in your field and clients can trust you. |
| 5. | Total Healing Holistic Therapy | "Total healing" is what most holistic therapy clients are looking for, making this name attractive. |
| 6. | New Approach Holistic Therapy | "New approach" is a good decsription of holistic treatments, making this name apt. |
| 7. | Mind-Body Holistic Center | "Mind-Body" works well as a name, as holistic therapy focuses on healing all aspects of the body. |
| 8. | The Comprehensive Approach | "Comprehensive" is an accurate description of holistic treatments. |
| 9. | Collaborative Healing Center | "Collaborative" refers to using various methods to treat the whole body. |
| 10. | Close to Nature Holistic Care | This name reflects holistic therapy clients' desire to use natural treatment methods. |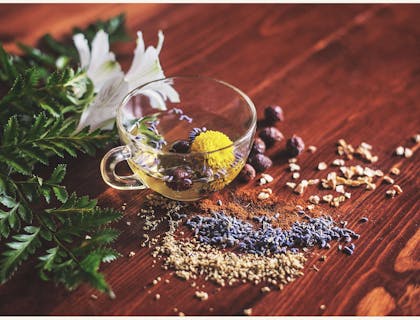 More Holistic Business Names Ideas:
Catchy Holistic Business Names:
The Healing Corner.
Life Healing.
AllHealth Therapy.
Wellness Abounds.
Reboot Clinic.
Creative Holistic Business Names:
Hanna Healers.
Mindful Creations.
Harmony 4 All.
Holistic Integrations.
Soma Wellness Clinic.
Good Holistic Business Names:
The Holistic Home.
The Nature Center.
Revive Healing.
Total Belonging.
Wentworth Wellness.
FAQs:
How do I choose names for a holistic health business?
Take keywords from your market research and use a business name generator to create business name ideas.
Approach potential clients and ask for feedback on your business names.
Ask loved ones for their opinions on your list of names.
Set the list aside for a few days and see which names you remember.
Check if any of your name ideas are already registered or trademarked.
Where can I find a holistic business name generator?
Try NameSnack — a free and intuitive company name generator that uses machine learning and instant domain search technology to generate scores of brandable business name ideas, including holistic health names for a business.
What are some famous holistic business names?
The Hive Holistic.
Subtle Energies Holistic Health.
Holistic Urgent Care + Primary Care.
Torrey Holistics.
Vallejo Holistic Health Center.